HOME


Jimmy Twogood and the Brand of Cain

Extracts
relating to his years in Southern Oregon, 1851-circa 1865,
from
James Henry Twogood'
s writings
. In vaguely chronological order of events: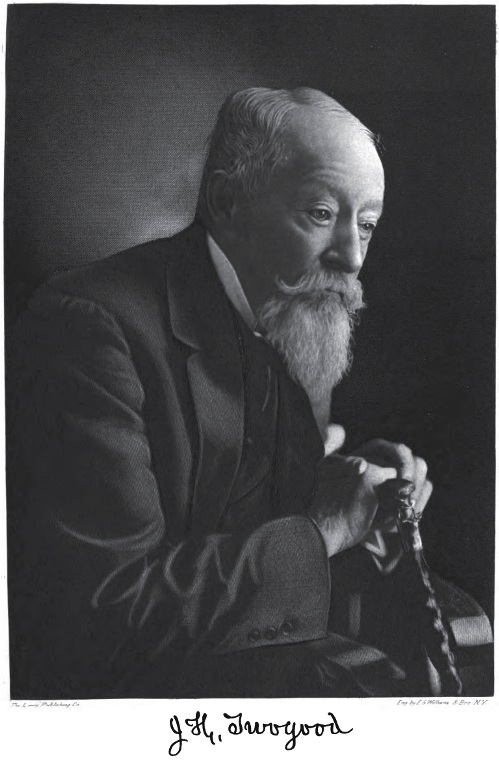 JAMES H. TWOGOOD. Boise, the state of Idaho and the entire Northwest mourned the passing of James H. Twogood, January 25, 1913. Here was a life remarkable in many ways. A simple, kindly, lovable old man, he was to the modern generation as a patriarch of biblical history, possessed of the stored-up wisdom and experience of almost three generations of human existence. More than three score years ago he had been as one among a small multitude of the bold, self-reliant, adventure-seeking, and hardy pathfinders and fortune hunters and home-makers of the Northwest. He carried his prospector's kit into nearly every promising field of southern Oregon, endured the toil and privation which were the lot of every successful miner of his time, fought Indians and learned to accept as commonplace accidents and incidents which now give a thrill of fear to the readers of his experiences who have long been "versed in ways of peace." For more than forty years Boise was his home, and the city which he saw grow from a village to the capital of a great state honored his rugged yet kindly nature as few citizens have been honored. His life record, though written as an outline and only suggesting the highlight of its adventure, is a chapter of Idaho history which will obtain an increasing significance and interest as the passing years throw into higher perspective the fundamental greatness of the pioneer.
James H. Twogood, known to hundreds of admiring citizens of Boise and elsewhere as "Uncle Jimmy Twogood," was a native of New York, born near Troy, July 12, 1826.
The eight children of William Twogood and wife are named as follows: Orestes B., who was a soldier in the First Wisconsin Infantry, became captain of his company, and after the battle of Stone River, where he had suffered much from exposure, was taken sick and died at his home, December 17, 1863; Helen, who died in infancy; Emily, who is still living and the wife of the late Merritt L. Satterlee, of Chicago; James H.; Elizabeth, still living, wife of the late [Stoughton] P. Jones of Jacksonville, Oregon; Sarah, also living, the wife of the late Colonel Alfred Chapin of Rockford, Illinois, Colonel Chapin having been a prominent soldier of the Civil War; Belle, who is the wife of the late J. F. Hervey, of Chicago; and William L., now of Los Angeles.
The late James H. Twogood was eleven years of age when the family came west to Illinois, and with the exception of such education as he obtained in the primitive district schools of his locality he was chiefly educated in the city of Chicago during the five years' residence of his parents in that city. He also learned the harness maker's trade there and followed that as an occupation for a number of years. During the middle forties he was a member of the volunteer fire department of Chicago, and was active and well known in the citizenship of Chicago when the population comprised only a few thousand people.
He was a young man of twenty-four when the lure of the West seized him and he came out into the then little known regions of Oregon. His introduction to this country may be described in his own words, as follows: "A younger brother and I crossed the plains in 1851 with a good four-horse rig of our own, landing in Oregon City August 20, but in trying to assist some of our more unfortunate friends, lost wagon, harness, all our clothing and a kit of saddler's tools. This changed the whole course of my life; could not go to work at my trade as I expected to do, so went to the mines in southern Oregon." In the records of the War Department at Washington might be found a detailed account of his many adventures, hairbreadth escapes and losses incident to the Oregon Indian wars that devastated that country up to 1855. That phase of his life, however interesting in itself, must be only alluded to here. He was an enlisted volunteer, and took an active part in some of the fierce battles in which the Indians were put to rout, and after which they gave the early settlers but little trouble. He was a prospector and settler in the Grave Creek region of Oregon, and the Grave Creek Indians were considered the most hostile tribe in the entire country, and a large part of the war centered over that section.
Shortly after the close of the Indian wars, Mr. Twogood returned to Rockford, Illinois, where he remained a few years. He then came again to the West and in 1870 located in Boise, from that time forward making this city his home. He saw Boise grow from a village of a few hundred people to the city of its present proportions. He took great pride in Boise, and this civic pride increased with his declining years.
The late Mr. Twogood married Miss Permelia Custer of Pennsylvania. Mrs. Twogood died on January 2, 1911, and it was this break in their long and happy companionship which hastened the decline of Mr. Twogood. The two surviving children of their marriage are Merritt L. Twogood, and Mrs. Robert Loring, of Boise, formerly Miss Carrie T. Twogood.
Excerpted from Hiram T. French,
History of Idaho: A Narrative Account of Its Historical Progress,
1914, page 770.
HE FOUND SOME CHANGES.
But No Wonder; He Hadn't Seen Portland Since 1851.
Portland has changed considerably in 49 years, according to J. H. Twogood, a retired mining man of Boise, Idaho, who is here attending the carnival. He had not visited Portland since he left here in 1851, and could locate none of the landmarks he expected to find. "Portland was only a slab town then," he said yesterday, "and the schooners used to dump their goods on the river bank, to be taken to Oregon City later on by tug. Oregon City was the place then. But what a change! It seems like awakening from a 50-year sleep, to find myself in a giant metropolis, where at that time the woods were too dense for even a man to walk through."
Mr. Twogood left Chicago April 10, 1851, and traveled as far as Elgin on the Chicago & Northwestern Railroad, the only line out of Chicago. At Elgin he boarded Frink & Walker's stage to Rockford, where he met a brother-in-law with a four-horse team, and it took 30 days more to drive to the Missouri River crossing. After a toilsome journey he reached Oregon City, August 20. O. B. Twogood, the brother, started a hardware business at Oregon City, but returned to the States via the Isthmus of Panama in 1857.
J. H. Twogood afterward located the Grave Creek ranch, which was on the route of a pack train between Oregon and California. When the Indian war broke out in Southern Oregon in 1855 this ranch became the headquarters for the Southern Battalion, and was known as Fort Leland. He says most of the participants in that war have joined the silent majority ere this.
Mr. Twogood is still in good health and spirits, and is liable to see a good many years of the new century if he remains in the Northwest, where the mild climate and happy surroundings render getting old a slow process.
Morning Oregonian,
Portland, September 8, 1900, page 12
- - - - - - - - - - - - - - - - - - - - - - - - - - - - - - - - - - - - - - - - - - - - -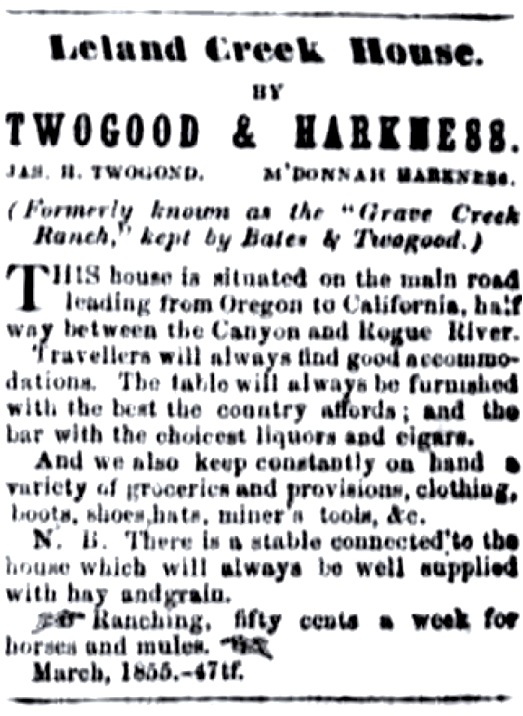 Twogood & Harkness ad, May 12, 1855 Umpqua Weekly Gazette
I called on Charley Wilson [publisher of the
Chicago Daily Journal
] April 9, 1851. The next day my brother, O. B. [Orestes Badger Twogood], and I started out west to find sunset and gold. I told Charley that I would let him hear from us en route, and the following is a copy of the first letter, which was reprinted in a home paper. Who of you readers can produce a clipping from a newspaper that you wrote nearly 57 years ago--more than the average man's lifetime? There are but few of the early timers of 1837 left in Chicago.
The following is the clipping referred to, exactly as it appeared in the paper to which I sent it:
Correspondence of the
Chicago Journal
From an Oregon-Bound Emigrant.

Iowa City, April 21st, 1851.
Friend Wilson:--We arrived safe in this great metropolis today en route for Oregon. We came via Rockford and thence down Rock River on the east side. We found good roads and as good a farming country as need be, all the way down to its mouth. We crossed the Mississippi at Rock Island, and stopped at Davenport. It is quite a stirring little place and built up mostly of brick, as is also Stevenson on the opposite side of the river. We have met with but one Oregon team on the way, and that was an ox team in a miserable condition. There is but few teams on the road, and those are mostly cattle. We have four good horses, a light wagon, and our baggage does not exceed ten hundred. We have no difficulty in driving 30 or 40 miles per day. We have been one week on the road and think in one more we will be able to make the bluffs, although we have a good many rivers and small streams to cross, but so far they have all been good bridges or ferries. There is some 30 or 40 Californians encamped just below here, from Wisconsin. This being the last point on the settlements, I shall not have another chance to write until we reach the Bluffs, when I will write you again.
Yours &c., J. H. T.
James H. Twogood, "Tells of Early Days in Chicago,"
Evening Capital News,
Boise, Idaho,
March 7, 1908, page 16
The complete article was reprinted in the
Jacksonville Post,
March 21, 1908, page 3


I crossed the plains in 1851 and landed at Portland, where there was a wharf and a dozen log cabins. I was entitled to a quarter section of land from the government, but there was nothing there. I could not wait, but Judge Denny, captain of our company, could, and a few years later located a half section, of what is now Seattle.
J. H. Twogood, "First Ball Given by Fire Department of Boise in 1876,"
Evening Capital News,
Boise, Idaho,
February 25, 1908, page 8
From Cow Creek the road is dry, but mountainous and rugged, to Grave Creek, eight miles, which has a valley sufficient for one or two claims, and a log hut is erected, but not occupied at present. This creek has its name from the circumstance of a woman, from an emigrant company, having been buried here a few years ago. Its Indian name is Ah-pel-pah.
Nathaniel Coe, "
Umpqua and Rogue River Valleys
,"
Oregonian,
Portland, July 3, 1852, page 2
Extermination of the Grave Creek Indians.
Messrs. Adams and McCormick, who arrived here a day or two since, give us the following information relative to the Grave Creek Indians. They state that two weeks last Wednesday [
on August 17
] four Indians were got into Mr. Bates' house, but as yet the women and three others had not come in. The whites waited till the rest of the Indians came up. Mr. Owens was there with a guard to protect the U.S. mail. When the other Indians came in Mr. J. H. McCormick was ordered to take charge of the armed white men, four in number, outside. It was ordered that no firing be done till near enough to make sure shots. The chief and three others were in Bates' house, in charge of Mr. Charles Adams. Mr. McCormick's attack was to be the signal for Adams inside. When the outside signal was given Adams shot a noted Indian named John. Mr. Thomas Frazelle shot at the chief, wounding him. The chief sprang at him with a shovel, aiming at his head, but was warded off, giving a dangerous wound in the hand. The chief then gathered in and threw him, when Adams put two balls through him and he expired. Capt. Owens came in, when an Indian sprang upon and threw him. While down Mr. Adams put two balls through him and he expired. In the melee Owens received two balls through his hat.
The question then arose whether the squaws and children should be put to death. Through Messrs. Adams and McCormick's exertions they were unharmed. The only one left of the male race of this tribe is a young lad some eight or ten years old, a very bright and intelligent boy, whom they brought to this place with them.
Oregon Weekly Times,
Portland, September 10, 1853, page 2
Capt. Owen, with a company, succeeded in decoying five Indians into Bates' house, on Grave Creek, under the pretense of having a talk, and, after disarming and tying, shot them. This act, together with the killing of a defenseless Indian at the "rancherie" on Grave Creek, are believed to be all accomplished by that company during the war.
"Affairs in the South,"
Oregon Statesman,
Oregon City, September 27, 1853, page 2
Mongo, a half-breed, and Thos. Prewell, were killed and a third man wounded by the Indians near Long's ferry, on Rogue River, on Sunday last, while upon the same day the house of Mr. Raymond, near Jumpoff Joe, was burnt to the ground, consuming with it a great quantity of flour and groceries. Two other houses in the same neighborhood were also burnt.
These outrages were in retaliation for the killing of seven Indians in the house of Mr. Bates, on Grave Creek.
Letter from Camp Alden dated September 2,
Oregon Statesman,
Oregon City, September 27, 1853, page 2
At Grave Creek [in September 1853] I stopped to feed my horse and get something to eat. There was a house there, called the "Bates House," after the man who kept it. It was a rough wooden structure without a floor, and had an immense clapboard funnel at one end, which served as a chimney. There was no house or settlement within ten or twelve miles or more of it.
There I found Captain J. K. Lamerick, in command of a company of volunteers. It seems he had been sent there by General Lane after the fight at Battle Creek, on account of the murder of some Indians there, of which he and others gave me the following account:
Bates and some others had induced a small party of peaceable Indians, who belonged in that vicinity, to enter into an engagement to remain at peace with the whites during the war which was going on at some distance from them, and by way of ratification of this treaty, invited them to partake of a feast in an unoccupied log house just across the road from the "Bates House," and while they were partaking, unarmed, of this proffered hospitality, the door was suddenly fastened upon them, and they were deliberately shot down through the cracks between the logs by their treacherous hosts.
Nearby, and probably a quarter of a mile this side of the creek, I was shown a large round hole into which the bodies of these murdered Indians had been unceremoniously tumbled. I did not see them, for they were covered with fresh earth. Doubtless this is the grave which Col. Nesmith saw as he came along some days later with his company on the way south, and which I think he mistook for the old grave of Miss Crowley. At least this is how these Indians came to their death. There was no fight there, or thereabout, with any Indians, and never had been. Fitzgerald and his dragoons were not there; and he did not even come to this country until the summer of 1855.
About this same time, these same parties by some device captured an Indian chief and his boy, and agreed with the boy that if he would go into the mountains and hunt down an Indian chief who had refused to come in and treat with them, and bring in his head, they would liberate his father, otherwise they said they would kill him. The filial young savage, for his father's sake, undertook the task, and taking his rifle went alone upon the trail of the old chief, and in due time returned with his head a la Judith, which Bates hung by the hair to the roof-tree of his house, as an Indian trophy, where I saw it with my own eyes. But this was not all. Instead of liberating the captive, they killed both him and his son. Bates left the country soon after, and went, as I understood, to South America. The place passed into the hands of Mr. James Twogood, who afterward in partnership with Mr. Harkness made it a famous resting place for man and beast.
Matthew P. Deady,
Transactions of the Oregon Pioneer Association,
1883, "Southern Oregon Names and Events," pages 23 and 24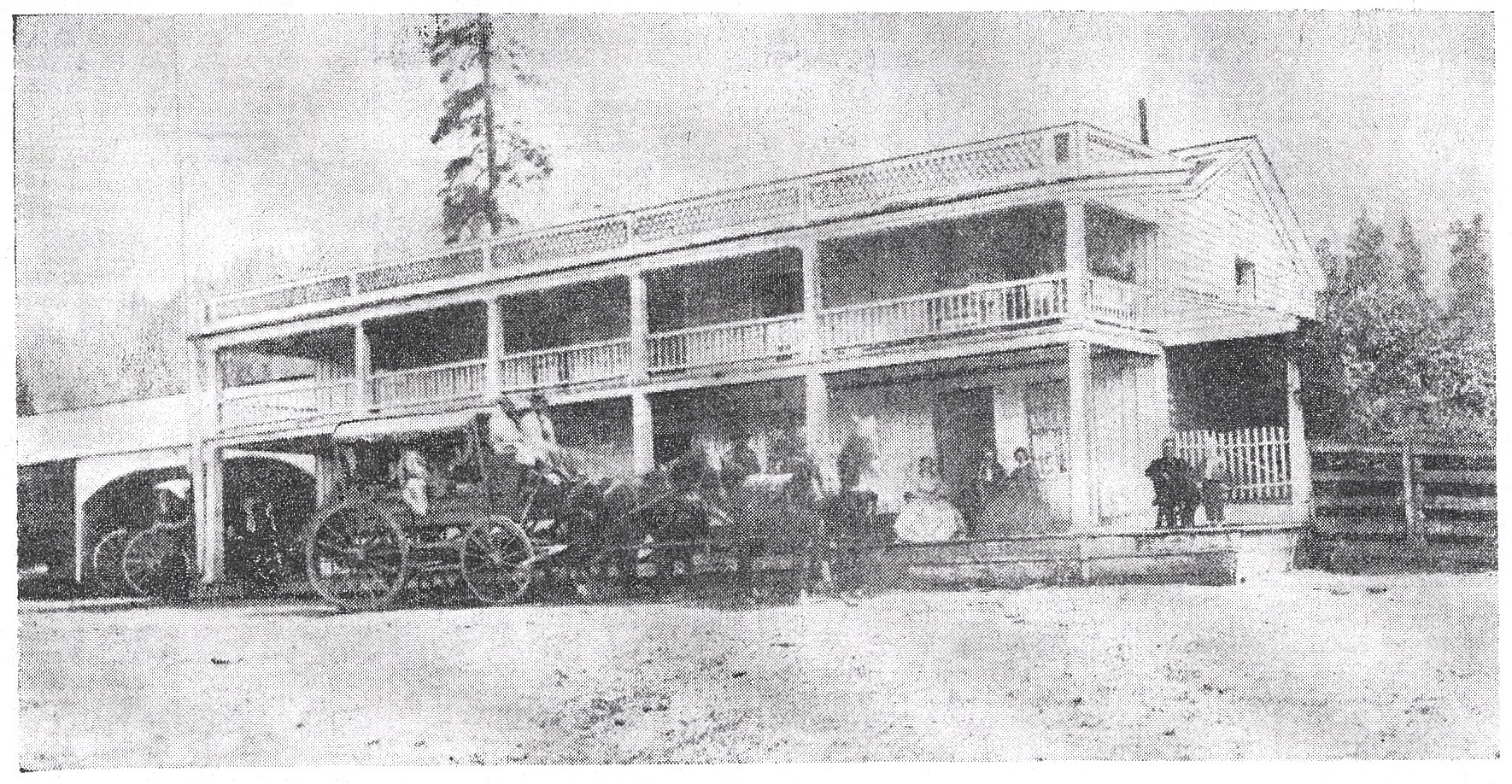 Grave Creek House
Early Settlement of Southern Oregon

In the early 'fifties James H. Twogood kept a tavern or travelers' eating and lodging house on Cow Creek, Jump-Off Joe, or somewhere on the Oregon and California trail in Southern Oregon. His place and the one at Dutchtown, now Aurora, near Oregon City, were considered the best eating places between Portland and Sacramento. But "Jimmy" got tired of running a hotel and went east more than 40 years ago and was living in Illinois in 1868 when we attended the Republican National Convention at Chicago. He was then lamenting because he had left "God's Country" for cold, hot, too-wet and too-dry Illinois and had got so poor that he could not go back to Oregon. We as a member of the Oregon delegation got him a seat in the convention. Since then he has come back as far as Idaho, where he now resides and has for some years. Some time ago he sent some writings of his in the
Boise Evening News
of nearly a year ago, and also a communication concerning Southern Oregon, to a friend in Eugene, Harry Huff, and requested that the papers and the communication be handed to me, which has been done after [a] long delay. But as the communication does not relate to recent news and is historical we print it below as a contribution to early history:
I clip the above from the Medford, Oregon
Tribune.
Mr. Parker has written me since and wants to know if I know anything about Josephine Leland. My reply is, most emphatically, NO. And furthermore, there never was a person in existence by that name in Southern Oregon. Now, as I blazed the first tree for a settlement on Grave Creek in '51 and lived [there] until September '66, went through the Indian war there in 1853, another in 1855-6, I think I ought to know.
And it's possible that I am the last one left of the '51 settlers. Crossed the plains after leaving Chicago, April 10, traveled days through Iowa without seeing a log cabin, got to Kanesville May 10, bought supplies, crossed the Missouri River, drove out 5 miles to camp, expecting to meet the Hadleys. They were gone. We started early next morning and drove 25 miles in 6 hours. My brother and I had [a] good rig. Wagon made by Peter Schutler, who belonged to my fire company [in Chicago. We had] two engines in 1845; here at Loop Fork [of the Platte River] we organized. Judge Denny, founder of Seattle, was made captain; H. G. Hadley and Aaron Rose, lieutenants, O. B. [Twogood], secretary. Thirty horse teams in train, no sickness in train of course; had to stand guard every night. Only one man shot by Indians, Mell Hadley, at Salmon Falls, Snake River. Bullet went in just below right nipple and came out close to his backbone. We laid by five days for him to die. Wouldn't die, so we took him through, landing at Oregon City, August 20. This was then the principal business center of Oregon Territory. Nothing at Portland but a wharf and a few log cabins. Brother and I lost everything by trying to help others through; wagon, harness, three years' clothing and my kit of harness tools, so I could not get a job. Sam Hadley and I rigged up with a tent and two months' provisions and started for mines that we heard of in Southern Oregon. We wended our way up through the Willamette Valley, which was very sparsely settled, via Salem, Albany, Marysville (now Corvallis) and up the Long Tom to Richardson's place; then to Eugene Skinner's place, where we found he had located section land, gift from Uncle Sam. Had log house and barn. Today it is Eugene. A few miles farther on we found where H. G. Hadley had located a half-section. We camped here three days; went to a log house, thence on over the [Calapooia] mountain, crossing the North Umpqua at Winchester. Five miles farther on we found Aaron Rose and family, our friends we left in Grand Ronde Valley. Ten miles farther on we found Jesse Roberts' place; thence on up to Myrtle Creek; crossed South Umpqua and up to north end of big canyon. Here we found Joseph Knott and family had located ranch in August. Then there was hardly a passable pack trail, worse than the Ohio Maumee Swamp we drove through in September 1836; 12 miles took two days.
Knott's place was the last settlement. We got through [the] big canyon some way and camped down on Cow Creek; thence over mountains to Wolf Creek and over steep hills to Grave Creek. Here we nooned. Found beautiful little valley, good grass right beside the road, good mountain stream, pure water; this from the fact people dare not camp there for fear of Indians. We crossed over next divide and were in the Rogue River Valley. Crossing Jump-Off Joe and Louse Creek, [after] 20 miles we came to Ben Halstead's ferry, crossed and on down the south side of the Rogue River 7 miles. We found where James N. Vannoy, Jim Tuft & Co. had located a ferry. Tuft, in after years [a] banker at Grants Pass, now across the river, which reminds me that I must be the last one left of the old times of 1851. Traveling up Applegate, we crossed over into the Illinois Valley and up that stream until we came to Sam Fry's horse corral. This place must have been a little north of a place that was located in after years called Kerbyville. Here we met Hardy Elliff and Judge Mofford. The judge was killed here in Boise about 1864-5. It would seem there was a company of prospectors from Eureka [that] got over the Siskiyou Mountains some way in August 1851. We came by good places; went on west 40 miles and found gold in two creeks. Josephine Rollins was with the company. One they called Canyon and the other Josephine Creek. And this is where the Josephine corner [of the "Josephine Leland" name] is. Next morning we packed our two horses and led them over the mountain to Josephine. We found miners there who showed us a good place to camp among the fragrant firs. We unpacked our horses, put everything on them we did not want and turned them loose; of course they went back to camp. The horse is a very intelligent animal--next to man. And there are dogs that seem to possess almost human intelligence. Hadley and I pitched our tent on Josephine [Creek]; mined ten days, found we were not onto our job, got tired, sold our provender for $80 in gold dust and retraced our tracks via Vannoy's Ferry to [the] canyon. Here Hadley and I split the blanket, he taking the tent his wife made for us in Portland, going down the South Umpqua five or six miles below Myrtle Creek and took up a ranch. I stopped at Canyon, afterwards named [Canyon] Ville. Levy Knott had located a ranch at the south end of [the] canyon. I went to work for him and helped to build the first log cabin south of Canyon until you got to Rogue River. Halstead's and Vannoy's were the only cabins in Rogue River Valley at that time. We got the house up, and I hired out for cook at $50 per month. As a chef [I] was not much of a success, but could "bile" water without scorching it; also fry bacon and venison; make good salt-rising biscuit, bake it in [a] frying pan, make good coffee. No vegetables then except chili beans. $1 per meal. Travelers only too glad to get it, no kick coming; especially travelers that were out all day in heavy rain and wanted to get in the dry before a big blazing fire in a fireplace, 6 foot wide; get good toddy under their jacket of good old bourbon that had been shipped around the Horn, then packed 150 miles until it was well shook up and all the headache extracted. As everybody had to pack their blankets those days, we did not charge for lodging. After getting thawed out and imbibing of a few [decanters] of the elixir of life they would get congenial and tell of their trips in crossing the plains, the happiest days of their lives. In November Sam Huch (from Chicago) and I leased the house. It was here that I met Barney E. Simmons. Barney was a Yorker but moved to Michigan when a baby. He enlisted in 1897 for the Mexican War under Zack Taylor; went to California in '49 and drifted up into Oregon. Barney and I went out and located Grave Creek Ranch, and as I blazed the first tree for a settler and made it my home for 16 years I think, Mr. Parker, [I] am [a] pretty reliable authority about the first settlers, and would seriously object to having any monument there, as Josephine Leland, as Leland [
i.e., Martha Leland Crowley
] died before Josephine [Rollins] saw that country. The above statement, Mr. Parker, is in the main correct. But the hanging of 3 to 6 Indians on the limbs of the old oak tree is quite erroneous, as there never was a person hung on Grave Creek to my certain knowledge.
J. H. TWOGOOD.
P.S. Josephine County was taken off Jackson County by act of Legislature in the winter of 1854. Bill drawn up by Major Lupton, who was shot by an Indian arrow at Table Rock, first outbreak of Indians Sunday morning, Oct. 9, 1855. He lived but a few hours. Major Lupton's bill not only created Josephine County, but changed the name of Grave Creek to Leland, in honor of [Martha] Leland Crowley and Josephine for Josephine Rollins, so you see Josephine Leland, as the Johnny-came-latelies have it, would hardly go down with an old mossback.
Undated circa 1908
Oregon State Journal
clipping, W. W. Fidler scrapbook, MS208 box 2 SOHS
Early Days in Southern Oregon
By James H. Twogood

When my brother, O.B., and I crossed the plains in 1851 there was no settlement west of the Missouri River until we reached the great Columbia River, where Dr. Whitman and family had started a mission to try to civilize the treacherous red man, as early as 1836. We had a rough trip over the Cascades, arriving in Oregon City August 20, 1851, and losing everything we had trying to help others. At this time Oregon City was the commercial center from whence all goods went south to the Willamette and Umpqua valleys. Losing my tools, I could get no work, and times were dull and money scarce. There was no Portland then, only one paper. There was nothing doing anywhere in the Northwest.
We heard of real gold mines at Yreka and in southern Oregon. Sam Hadley and I had a slight attack of the yellow fever. We rigged up a tent, and with two pack and two saddle horses started south to the new Eldorado. Traveling up the valley we found it very sparsely settled. Many sections of good land could be taken up by immigrants, lived on five years and it was a donation from our dear old Uncle Sam. In the valley we came to Eugene Skinner's place, where he had taken up a section of land. He had a log house and barn, and part of his yard was fenced, where he raised garden truck. Today Eugene is a big city with an opera house.
We then traveled south over the the Calapooia Mountains, up the creek to the North Umpqua. Here we ferried to Winchester, which was then the county seat of Douglas County, a town of one log house. The county reached from the Siskiyou Mountains on the south to Calapooia on the north, 300 miles, and from the Pacific Ocean on the west to the Rocky Mountains on the east, enough territory to form 15 or 20 states like New "Jersey." Five miles farther south we found Deer Creek, likewise Aaron Rose and family, who were our traveling companions when we crossed the plains. Rose had located a half-section donation claim, which today is the present site of the town of Roseburg, the county seat of Douglas County, but the same territory is now carved up into a dozen counties.
Traveling up the South Umpqua River 28 miles we came to the mouth of the big canyon, over a horrible road of 12 miles on the old immigrant trail. I do not see how it was possible for people to go over those roads with wagons. In 1852 I saw a man start over that road through the canyon with two yoke of oxen and a good wagon, and at the end of two days he got through with only the front wheels. Here we found Mr. and Mrs. Joseph Knott, who crossed the plains in 1850 from Ottumwa, Ia., and had located a ranch, built a log tavern, and called it Canyonville. They had three grown children, Levi, Jack and Libby, whom Vince Davis called "Sis." She married Bob Ladd, a very wealthy banker in Portland. The rest of them crossed the great divide years ago, and I am the only one left.
After getting through the canyon we traveled down Cow Creek seven miles, then crossed over the mountains and on to Grave Creek, where we found a beautiful little valley with a gigantic oak tree and a grave right beside the road. Clover grew to the height of six inches, and it was an ideal camping ground. Did we camp there? I should say not. No one would dare to camp there on account of the Indians. It was considered the most dangerous point on the road. On south seven miles we crossed Jump-off Joe and Louse creeks and came to the Rogue River. Here we found Ben Halstead had established the first ferry on the trail between Oregon and California. We crossed here and went down seven miles and found James N. Vannoy, Jim Tuft & Co. had taken up a splendid ranch and put in a ferry. Both were as good men in principle as ever lived, and both are now dead. From here we traveled up the Applegate into the Illinois Valley, which we followed up to a point where Kerbyville now stands. We struck off north [
sic
] and found Sam Fry, who was running a horse corral.
It seems as though a small company of California miners, during the month of August 1851, left Yreka and traveled north in search of gold. They traveled on the old Hudson Bay trapper trail over the Siskiyou, down Bear Creek, and right by Jackson Creek, where there were good diggings, and on to the Illinois Valley. Here they went north over pretty steep mountains and found gold in two different creeks. One they named Canyon Creek and the other Josephine, in honor of a young lady who was a member of the party. This was the first gold found in Oregon. Afterwards Sailor Diggings,
Althouse
and many other good diggings were struck. I was with the Joe Knott party in February 1852, and we were the first white men to ever make the trip up Galice Creek, where we found good diggings.
Halstead and Vannoy had the only two log cabins in the Rogue River Valley in 1851. It seems to me like a fairy tale when I read about a fruit ranch being sold there for $168,000, and land near Medford producing $500 worth of fruit per acre.
Early Settlement in Southern Oregon.
It was in the fall of 1851 or early spring of 1852 that gold was first discovered in the Rogue River Valley. It was found on a little creek in paying quantities by a man named Jackson, who called it Jackson Creek, close to where Jacksonville, the seat of Jackson County, is located today. [
Today the discovery of gold is credited to Clugage and Pool, following the directions of a man in the employ of Alonzo Skinner. The Jackson name was taken in honor of Andrew Jackson.
] Sterling Creek was located by Mr. Sterling later. That proved rich and built up Jacksonville.
In 1851 there was no sickness on the plains, but in 1852 there was a big immigration, and people died by the hundreds of cholera, all owing to the fact of their not taking the precaution of providing themselves with a bottle of Perry Davis' painkiller. In Chicago during the summer of 1849, when the epidemic was raging, there were 30 deaths in one day. I was taken with the cramps one day; I took a big jolt of Perry Davis' painkiller, laid down on a lounge and went to sleep and waked up in the evening feeling as frisky as a young colt.
In the spring of 1852 a big immigration from the Willamette Valley went out to what is today called Josephine County. There was no county then, no sheriff or tax collectors, but a happy, happy people. The valley and villages settled up very rapidly, many coming up from around Portland and that section--Dave Birdseye, Colonel
W. G. T'Vault
,
Captain Angel
, the Millers and many whose names I have forgotten.
C. C. Beekman
is the only one left whom I know of from Yreka. My dear, good friend, a banker today, rode the first pony express from Yreka to Jacksonville. [
Note that Beekman's express predated, and was unrelated to, the famous 1860-61 Pony Express that terminated in Sacramento.
]
It was about 1859 that another great mining excitement broke out, away up north in the Frazer River country. It fairly set people crazy. They flocked up there by thousands, by steamer from 'Frisco, and by the California and Oregon state route. The stages were loaded to the guards every trip. At Grave Creek house, a dinner station 40 miles north of Jacksonville, we used to cater to 10 or 12 passengers every day.
Alex Rossi, a pioneer of Boise, came to California in the early days. He was a natural-born mechanic and good surveyor. He drifted north in 1853, crossing over the Siskiyou Mountains. At the foot of the mountain he found a town called Ashland. It was here, I think, that a Mr. Thomas, a big, jolly, 200-pound German, built the first flouring mill in Rogue River Valley. He was an old friend of John Krall, a well-known pioneer of Boise. Mr. Rossi went to work for Mr. Thomas and stayed until October 1, 1855. Then he again drifted north and came down to the Grave Creek house, stayed all night with us and started for Salem.
In the meantime the Indians in the Rogue River Valley, under Chiefs Joe and Sam, had been committing depredations, robbing and killing white men. About October 8 the citizens of Jacksonville commenced to talk of the matter of retaliation. About October 8 they raised a company of volunteers and started for the Indian headquarters at Table Rock, near Fort Lane, which was established by General Joe Lane during the Indian war of 1853. This volunteer company was under command of my good friend Major Lupton. They attacked the Indians Sunday morning, October 9. Quite a number of the whites were wounded, and Major Lupton was shot through with an arrow that proved fatal. Hon. John Hailey, one of our most honored pioneers of this city [
i.e., Boise, Idaho
], helped extract the arrow. That fight gave the Indians a start, and the whole tribe came rushing down Rogue River, killing and burning everything before them. They caught me with a pack train down at Galice Creek, and I did not get home for three days, but that is another long story for the future. Suffice to say, this precipitated the biggest Indian war ever known on the Pacific coast, reaching from California on the south to British possessions on the north and where Idaho now stands on the east. When Mr. Rossi reached Salem we had a full-fledged Indian war on our hands. Here he met Governor George L. curry, who insisted upon mustering him into the service. As war had been declared, he was assigned to the quartermaster's department as clerk and remained in the office until the close of the war in June 1856, when all the Rogue River and Umpqua Indians were gathered up and transported to the Siletz Indian Reservation in the Willamette Valley, where they were placed under command of Lieutenant U.S. Grant.
My thinker is getting decidedly defective, but I want to live long enough to write up the big Indian war of 1855-56 from its beginning on October 9, 1855 to its close in June 1856. It was the biggest war on the Pacific coast, and incidentally, about that time I had a thrilling ride for life. There were several hundred white men killed and wounded and quite a number of women. I guess I am the only one left who can write up his war from the southern part, as our place at that time was in the center, and was headquarters for the southern battalion and was known as Fort Leland.
My thinker is beginning to desert me at the age of 84, but if the lamp holds out I will write up one more piece, "A Ride for Life," which I will illustrate with cuts of my penknife, as illustrations are a fad and no newspaper or magazine article is complete without them.
It was in the summer of 1850 that James A. Pinney, in company with his father, left Iowa and crossed the plains to California. Later Mr. Pinney drifted up into southern Oregon, Jacksonville, just as the Rogue River country began to settle up. He ran a pack train to Crescent City, on the coast, for some time.
In the summer of 1854 he joined a volunteer company of 90 men and 50 packs under the command of Captain Jesse Walker, B. F. Dowell and others, to go out on the plains to escort in emigrants. They started out east via Klamath and Goose lakes and through the Modoc country, were out all summer and helped many people who were short on rations, and saved many a family from [being] massacred by the treacherous redskins. Jackson sent out a second train with provisions, the most humane expedition ever gotten up by the good people of southern Oregon. For his summer's work Mr. Pinney received the munificent sum of $50 from the territory.
In the early spring of 1863 J. A. Pinney, Uncle Dick Tregaskus and Ruf Johnson left Jackson for the north with three pack trains of 20 mules each--60 mules and a bell horse. As this was the biggest train ever on the road, it created quite an excitement through the Umpqua and Willamette valleys. Arriving at Portland, they all shipped on the steamer for the upper country. At Umatilla they loaded with general merchandise for the basin country. Mr. Pinney stopped at Idaho City, started building stores, of which he built three, and sent his train back after more goods.
Abridged from
The Jacksonville Post,
serialized beginning November 19, 1910, page 1
A shorter version was printed in the
Medford Mail Tribune
on November 20, 1910, but it was indifferently edited, and contains numerous small differences. It also appeared in the
Rogue River Courier
of November 18.


HOW JOSEPHINE RECEIVED ITS NAME
To the
Tribune
: I recently saw an item in the
Tribune,
a narrative telling how Josephine County and Leland derived their names. It is quite amusing to me how people get mixed up that were not johnny on the spot.
With them it is only hearsay. I think I am absolutely the only living man that can give anything like a true version of the affair.
George H. Parker of Grants Pass, Or. writes me that they want to place a monument over the old grave to preserve its history.
We crossed the plains, my brother, O. B. Twogood, and myself, in 1851, with 30 teams. Judge Denny, who located Seattle, was captain. We crossed the Missouri May 10, landed at Oregon City August 20. We lost everything we had in trying to help others. Not finding work, Sam Hadley and I rigged up and started for the mines that we heard had been struck in southwest Oregon. We traveled through the Willamette that was very sparsely settled and went 250 miles or as far as Deer Creek. There we found Aaron Rose and family of our county. We purchased a squatter right and little shack, 10x12. This is now the city of Roseburg.
From there we went south five miles, where we found Jesse Roberts, thence to the mouth of the big canyon, Joe Knott's place, the last house on the road. We went on to Grave Creek 30 miles farther and found a nice little valley and good grass. Going 20 miles further south, we found Ben Halstead's log cabin and ferry boat. We crossed and went down the south side of Rogue River seven miles to Vannoy's ferry. J. W. Vannoy and James Tuft had located a ranch there. They were the only two cabins in the Rogue River Valley.
Passing up Applegate we passed over the divide and into the Illinois Valley, some 20 or 30 miles. Here on the north side we found a camp. Sam Frey was there with a horse corral, where he herded miners' horses. There we first met Hardy Elliff, Mrs. J. E. Enyart's father. We also met Judge Morford and partner with a pack train. The judge was killed in Boise, Idaho in 1864.
The next day we passed over the mountain to some creeks, where gold was found. Hadley and I struck camp, pitched our tent and worked ten days, when we concluded we were not cut out for miners. We retraced our steps to Canyonville.
Hadley went ten miles down the South Umpqua and took up a ranch. Leroy Knott helped him build the first real log cabin south of Canyonville. It was then I met Barney Simmons. He and I went 17 miles south and located the Grave Creek Ranch. I blazed the first tree for settlement there. A company of prospectors came over the Siskiyou Mountains in August of 1851. They went down Rogue River and into the Illinois Valley, then over a mountain, where they found two creeks with gold in them. There was a Miss Josephine Rollins in the party, so they named one creek Josephine, the other Canyon. I have been told [erroneously] since that the young lady was Miss Leland Crowley and was with Jesse Applegate's train in '45 or '46, the first wagon train that ever came into Oregon from the south. They did not make more than five miles a day.
During the Rogue River Indian War of 1853, commonly known as General Joe Lane's war, my partner, Gale, and a Spaniard from Spain were shot in bed one night and the house burned at Cow Creek; afterwards six out of ten Grave Creek Indians were massacred in the Grave Creek House by Captain Owens' company of volunteers of Jacksonville. Indians were planted in the same graves they helped to open. They remained "good Indians" after that.
During the war of February '56, my partner, M. D. Harkness, went to carry a message to General
[John] K. Lamerick
30 miles down the Meadows. The Indians waylaid him, shot him in the groin and he fell from his horse. The Indians came up, stripped off every rag of clothing, scalped and cut him up in pieces, while yet alive.
Whigs Win First Election.
It was in 1854, the month of June, I think, when the first election was held in Jackson County. The Whigs carried it. M. Lupton and John T. Miller were elected to the legislature. Lupton introduced the bill creating Josephine County and changed the name of Grave Creek to Leland. So you see, Mr. Parker, the name of Josephine Leland would not look well in history, as Leland Crowley was dead before Josephine Rollins was in that part of the country.
J. H. TWOGOOD.

Medford Daily Tribune,
December 18, 1908, page 4
THANKS.--Many years have passed since we were more agreeably surprised than one morning this week. We went into our sanctum and found a keg of cider from Jimmy Twogood, proprietor of the Grave Creek House, with directions to keep it corked tight in order that the "Devil" may be kept out. This precaution was unnecessary, as the Good Templars have got that personage; but we propose to get in even if the devil follows.
Oregon Sentinel,
Jacksonville, March 10, 1866,
page 2
Born.
At Leland, Josephine Co., Oregon, March 18th, 1866, to the wife of J. H. Twogood, a son.
Oregon Sentinel,
Jacksonville, March 24, 1866,
page 2
In Rockford, Ill. Jan. 30th, at the residence of Mrs. S. H. Chapin, Leland Custer, youngest son of James H. and Permelia A. Twogood, late of Leland, Josephine County, Oregon, aged 10 months and 12 days.
Morning Oregonian,
Portland, March 25, 1867, page 2
UNCLE JIMMIE TWOGOOD WRITES
Tells of Pioneer Friends in Rogue River Valley,
Recalled by the Death of Mrs. Kenney, nee T'Vault.

BOISE, Idaho, Nov. 26, 1911.--To the Editor: I was very much surprised awhile back to notice the death of my dear old friend Mrs. Kenney (nee Lib T'Vault). It was in the month of August 1851 that I first met Col. T'Vault in Oregon City. At that time General Joe Lane, Delezen Smith, J. M. Shepard, and his brother-in-law were called the "wheel horses of the Democrat Party" and ran things to suit themselves, but it didn't last.
It was the spring of 1852 that Col. T'Vault moved out south to the Rogue River Valley and took up a ranch 10 miles north of Jacksonville and called the place where they had the post office Dardanelles. Gold was struck there afterward by Ish, Johnny MacLothlin, Henry Klippel, August Brown and others. In the Indian war of 1853, Doc Rose and John R. Hardin were waylaid and killed near there. Hardin had married Amanda Gall of Galls Creek; [his] widow married Hawkins Shelton of Roseburg, lived neighbors to me here many years. Both are gone now.
Of my dear old friends the T'Vaults, the old gentleman and his wife, Lizy, Sainty and George are all gone now, as are Col. John E. Ross, whom I knew in Chicago in the '40s; Mike Hanley, Wagoner, Foudray and hundreds of others. Dave Linn and John Hailey of Boise, Joe Pinkham and James H. Pinney are all that are left. At the rate the pioneers are passing away, I soon will be all alone. I am approaching my 86th birthday. My oldest sister, Mrs. M. L. Satterlee, of 2704 Michigan Avenue, had 150 guests at her 91st birthday party, which was on October 16.
Joe Pinkham is manager of the Boise assay office. John Hailey and wife, nee Miss Burrel Griffin, and Jim Griffin that ran the pack train to Crescent City and who is now proprietor of the Pinney theater, which cost $100,000, are all 10 years younger than myself, and are all in good health and vigorous.
The weather in Boise is ideal; warm, clear, sunshiny days, no storms or wind yet. It is next to Rogue River Valley, which has the best climate on the coast.--J. H. Twogood.
Medford Mail Tribune,
December 5, 1911, page 2
At Grave Creek [in 1852] we found a yet-unfinished log house, and several lion-hearted, iron-handed, hawk-eyed backwoods chevaliers, who boastfully defied all the Indians in Southern Oregon, not one of whom should ever again walk over that spot of ground in any other than a friendly manner. Well was the promise kept. A few years later, when the savages murdered the settlers, and burned their homes in all the country round, Grave Creek station stood intact, defiant, safe. In after years when the Oregon and California stage line was established, Grave Creek was made a station and rose to greater celebrity than any other stopping place on the route. The
esprit de corps
of the establishment--if the application may be made--was one of the proprietors, Jimmy Twogood, a man anxious to make money out of the establishment--knowing how to do it and doing it. He was much respected by those who knew him, and many of his odd, though seldom senseless, expressions may still be remembered by those who fortune it was to seek food and shelter at his Grave Creek hotel. Before placing the stage teams upon the route a man was sent along the line to designate the stations and prepare quarters and food for teams and passengers. The Grave Creek house was a candidate for one of the stations. The agent noted the apparent sterility of the surrounding country and did not think it a proper site, because he thought that feed for the teams could not be raised in the vicinity, and the cost of hauling from other sections would be considerable. But Jimmy was tenacious, and held that his place was better adapted for a way station than any other place within twenty-five miles of it. He was a great stutterer, and when talking it was his invariable rule to raise his right foot upon the toes and perform a perpendicular vibration with the heel, at the same time rapidly slapping his right thigh with the open hand.
"You can't raise anything here, Mr. Twogood," said the agent. "This land in sight around here is too dry and gravelly. I must find a place where they can raise something." To which Jimmy, with his usual accompaniment, replied, "W-w-we c-c-c-can r-r-r-raise s-s-s-some-th-th-th-ing h-h-hh-ere t-t-t-too!"
"That is all very well, Mr. Twogood, but I'd like to know what it is that you can raise here."
"W-w-w-we c-c-c-can r-r-r-raise h-h-h-hell!"
The loud and prolonged run of laughter by the assembled guests which greeted this unexpected finale decided the contest in Jimmy's favor. He got the station.
"Thirty-Four Years Ago,"
Sunday Oregonian,
January 10, 1886, page 3
I knew James Twogood when he was learning to stutter. If he happened to be coming down [the] street with a package under his right arm and met someone he wanted to talk with, he would change the package to his left so he could pat his leg with his right hand while he talked.
M. E. Payne, "Boise Valley in the Days of Old,"
Idaho Statesman,
February 19, 1911, page B8
A Journeyman Tinman Wanted;
To whom good wages and steady employment will be given. None but a good hand need apply.
BACKUS & TWOGOOD,

Portland, March 12. Front Street.
Oregonian,
Portland, March 19, 1853, page 3
In the [legislative] session of 1853-4 there was a regular mania for changing names, some of which stuck and some did not. Marysville became Corvallis; the name Chemeketa was substituted for Salem in a bill that passed the house but failed to pass by one vote in the council. So Salem missed an infliction, for it takes several weeks' practice to break a newcomer's tongue to utter in euphonious accents the sounds of "Chemeketa." Albany escaped being exchanged for a soft-vowelled Calapooia word, the name of a neighboring creek, simply because no one has ever paid any attention to the law. Grave Creek was changed to Leland Creek, Rogue River to Gold River. There were other changes made that never took effect. Jimmy Twogood was mad at the name Leland being given to Grave Creek, and sarcastically asked why they didn't change the name of "Jump-off Joe." He said they might have called it "Come-Back-Stephen." As he was apt to stutter when excited, he made quite a name of it.
O.W.O., "Our State Capital,"
Sunday Oregonian,
September 30, 1888, page 1
I will cite two cases in southern Oregon which happened in the '50s. In those times everybody "packed" a gun who was able to own one. I plead guilty to the charge myself. I was strapped to a young Colt, and nights I slept with it under my head. That was from 1851 to 1856, during the Rogue River Indian War.
[James] Simeon Oldham, a sporting man from Rock Creek, Mo., crossed the plains in the early times and settled in the Willamette Valley. He went out to Yreka, Cal., in the summer of '52, with a little sorrel racehorse that he called the "Gold Digger." It was truly named, for he could dig out more gold in a quarter-mile dash in 20 seconds than most men did all summer. On his return trip the horse got lame, and he left him with me at Goose [
Grave?
] Creek. It was there that I first got acquainted with Oldham; as fine a man as one would wish to meet.
In after years, when southern Oregon got more thickly settled, they had a race course near Jacksonville. It was here, on this track, one spring in the '50s, that Mr. Oldham got into an altercation with Dr. Alexander, a noble, good man. Everybody was his friend. Mr. Oldham must have been under the influence of liquor, but that is no excuse. He pulled his gun and shot the doctor dead. He was tried and acquitted by a "lower court," but the brand of Cain was placed upon his brow, and, like others, he became a wanderer upon the face of the earth, and never knew what "peace on earth, good will to men" was, ever afterwards. He wandered up here to Boise in the early '60s, and then drifted over to Silver City, where a young man shot him.
Simeon was a brother of J. B. Oldham, ex-sheriff of Ada County, whom all the oldtimers knew and respected as a man, although a gambler. He was as true as steel and "on the square," ever ready to extend the glad hand and share his purse with his fellow man. They don't make any kinder-hearted men than J. B., but he has gone to his long home.
There was a Captain Abel George, captain of a volunteer company during the Rogue River Indian War of 1855-56. He was a fine-looking man, with a nice family, and was a neighbor of ours, living 13 miles south of us. Some time after the war he went out to Jacksonville and got full of booze, and went to Clugage & Drum's livery stable, where a colored man was getting onto his horse. George jumped on behind, in his wild, crazy fit; they both fell off, and the colored man was dead. George was tried and acquitted by a "lower court," but his life was wrecked.
And there was "Ace" Abbott. In the early '50s, when I first knew him, he was a good man, but something of a bluffer. He lived south of us, in the same county, near Kerbyville. He, too, had to get his man with a gun--I think he was a colored man. Abbott was tried and turned loose by a "lower court," but his life was wrecked.
Billy Abbott carried the mail on horseback, and stopped with us in the fall of '55, during the war. They all came up here [
i.e., the Boise area
] in '63 and settled in Garden Valley. At Placerville, one day, "Ace" got into a shooting scrape with others. When the smoke cleared away it was found that he had killed his brother, Billy. Abbott was again tried by the "lower court" and swung clear. He sent for me to come up and buy his ranch, in the winter of 1870. I went up and found two feet of snow and did not purchase it. Abbott sold it in 1871 or '72, left the country and went to Texas, where he could get rid of his troubles, as he thought, but alas! the poor deluded man found a judgment hanging over him from a higher court, that said: "Thou shalt not kill." It set him crazy--conscience would not down, so he passed in his checks, going via the double-barreled shotgun route. Oh! if men would only stop to think!
Last revised April 7, 2023