The subject of this transcription is a small, worn leather book, 3x4½ inches, containing an account of a trip in 1858 to "the States" from Ashland, Oregon. Though the flyleaf is inscribed "John K. Helman," that inscription is inked in a schoolboy scrawl different from the cramped penciled hand that records the daily entries in the book. Besides, John K. Helman was four years old in 1858.

The author of the diary is most likely Abel D. Helman's business partner Eber Emery, who is known to have traveled to his former home in Ashland, Ohio, in 1858, returning the following year.

Eber Emery (1819-1891), with his wife Sophia Hoover Emery, emigrated to Oregon in 1850, crossing the Isthmus by pack train. A millwright by trade, he located at the future site of Ashland and built the town's first mills, a flour mill in 1851 and a sawmill in 1851-52. He later built and operated the Ashland House hotel. Emery died in Gold Hill in 1891.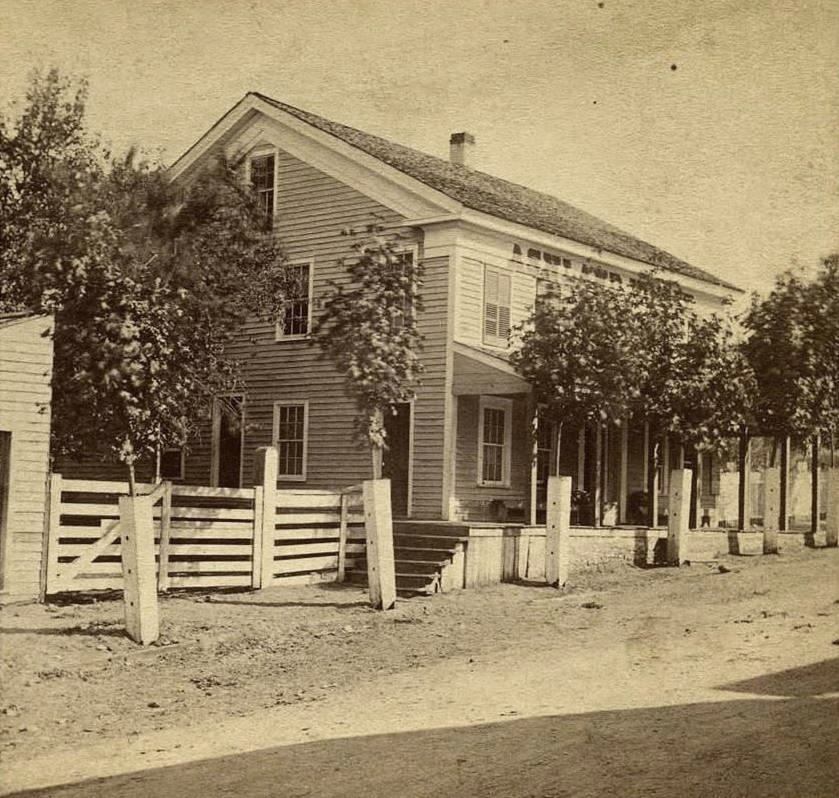 The Ashland House hotel, circa 1880.


Oct 7 '58

Left A. D. Helmans Or at about sun up for the States being in a wagon drawn by the team of R. B. Hargadine we arrived at Cottonwood Cal at noon where we took dinner started soon for Yreka at which place we arrived at 5. o' in the Eve fire [?] same Eve at Cotton[wood] [
illegible
] 6 & 7. o' lay around town on the Eve of 7th J. R. Helman came to town that night we went to hear the Alleghanians sing and we heard some good singing.
9
left Yreka in the stage at 4. o' A.M. cool riding 18 [miles] took breakf[ast] good. we then went 18 miles farther in stages (through some splendid pine timbered country leaving Shasta Butte & Gates hill to the left) at the soda springs we took dinner. There we straddled mules and crossed the Sacramento river keeping down it and near the river we came in sight of Castle rocks towering high to the right of road arrived at dog creek at night. supper good distance 30 miles @ 2½ o'clock A.M. left dog creek went 4 miles crossed Sac river--country hilly got to first river houses at 7 AM 30 m[inutes] got a middling breakfast took stage for Shasta 18m got to Shasta City Nixons staid till 8½ o'clock meals good on the
11

took stage for Red Bluffs in Sac val dinner at Tehama roads very dusty left after [
omission
] am arrived at Oroville at dark suppers poor road over a hilly country from there to Marysville got to Marysville about M[idnight] mosquitoes bad left there at 7 am
12

arrived at Sac City at 12.00 country level roads dusty dinners good 2 PM got on the boat for San Francisco pleasant time coming down river arrived at Frisco 10 o'ck same night put up at the Tremont house on Montgomery St.
The next morning 13th crossed the bay to Oakland and San Antonio. there took stage to Alvarado 20 miles went up through the San Jose valley beautiful country got to Alvarado 5½ AM. Stopped at Brooklyn house, fare good, staid on till the morning of 15 saw J Holmes
15th

returned to Frisco nothing eves went to theater at night
16

run all over the city to see the sights in the Evening the Steamer of G. Stephens arrived from Panama with 1400 passengers went to the wharf to see them land. then went to the theater and saw Uncle Toms Cabin played the best theatrical performance I ever saw
The 17 Sund

read a book called Rawson the Renegade, a tale of the early settling of Arkansas
18

done nothing saw nothing Stranger in the Evening Emerys came to the City
19

bought my tickets
20

got on board the Steamer about 8 o'clk in the morning started half Past ten. Sea rough today slept well
21

sea calm land in sight cool wind saw some whales spout
22

sea pretty rough hoisted sail in the evening passed a small sailing craft
23

was up at sun up land in sight whales some clouds around the horizon sea middling calm noon clear except smoke [of a] ship in sight to our right, evening no land in sight sun set in cloud moon was bright & clear
24 Sunday.

morning up before sun up. a little cloudy. land in sight. sea middling calm. had the sick headache went to bed and slept it off very warm through the night
25

did not get up till after sun up. sea calm, no land in sight, weather warm
26

land in sight. Sun rose clear & bright sea not so calm as yesterday Breakfast Salmon Coffee Crackers & Potatoes saw a small shoal of Porpoise also some whales spouting 12 o'clock stopped at a small Spanish town (a few small houses built of cane and trellis) called Manzanillo where we took on some men and three Portuguese prisoners for burning a ship bound for San Francisco loaded with guano, left a[t] 1 o'clk land in sight all afternoon. sundown a middling cool breeze went to bed early
27

sun up when I got up cool breeze from south East Ate no breakfast. land in sight. run into the Bay at Acapulco at 3 o'clock P.M. took on coal the natives came around in little boats with fruit to sell. bought 4 Eggs & 6 Oranges for 25 cts. a man died on board while we were in port named Stevens from Missouri left port just at dark at 8. o' he was thrown overboard went to bed soon after
28

sun up land in sight and a little cloudy in the west came into the gulf of Tehuantepec about noon at which time the wind began to blow and the sea became quite rough about 8 o'clock a child died went to bed then
29

No land in sight vessel rocks a good deal sideways although the sea does not appear very rough a little cloudy but little wind. running a little south of East the child that died last night was buried in the sea at 8 o'clock. I saw it thrown over. the mate read a chapter in the Bible and the Lords Prayer 12. o' The sea more calm had a pretty good dinner the sea wind was pretty calm till night when the boat rocked a good deal went to bed about 8. o' no land in sight all day
30

sun up when I got up a little cloudy with a pleasant breeze Sea calm no land in sight sea remained calm all day.
31 Sunday.

was up about daylight wind blowing pretty hard sea pretty rough. 2 sailors had a fight this morning. ate no dinner but went to bed and slept till 3. o'clock, got up and found the sea as rough as ever Cloud in the north East and I think rain not far from the ship as I saw a rainbow it has been pretty cloudy all day sea became middling calm towards Evening
Nov 1st

last night was very cloudy & dark the steerage boys had a good deal of fun with a fellow they called the Marysville Dog lightning in the South last night very cloudy this morn and appears to be raining all around the ship saw a rainbow this morning rained a little about 8 o'clock about 9 the sun came out pretty hot. Land in sight all morning, ran to the right of a small Island called Monkey Island, in the evening became foggy.
2

went to bed early last night as I did not feel very well during the night we had a pretty high wind with rain and thunder & lightning running close to land this morning. course North of East. at 9. o'c we passed two small Ledges of rock one on the right & the other on the left of the ship land both main and Islands close on the left of the ship into port. arrived in port about 7. o' P.M. Showers of rain as we came in which made it so dark that there was but little to be seen. we lay then till 2½ o' on the
3

when the small steamer came along side of us and took us off to Panama, distant about 5 miles from where we anchored. we got to Panama about 4. o' so dark we could see nothing took the cars immediately for Aspinwall. when it came daylight we saw some fine sights the Chagres river was very muddy. Saw some beautiful sights on some of the Plantations arrived at Aspinwall at 8½ o' A.M. when we set down at the St Charles Hotel to eat breakfast but sadly disappointed by getting nothing fit to eat but bread & butter there after that I went out to see the sights around town and I found it [a] perfect dirty stinking hole I never was so sick of any place in my life as I was of it at noon I eat a pretty hearty dinner and then went aboard the boat the boat left at 1. o' a few rods from where she lay at the wharf lay an American man of war who as we passed her played some fine National Airs in honor of Mr McKitten one of the Members of Congress from Cal. in a short time the sea became quite rough which caused me to throw up my dinner and then I felt quite easy I soon went to bed & had a good nights sleep land in sight when I went to bed
4

did not get up very early when I got up the sea was pretty rough with head wind and continued so all day felt very well to-day no land in sight & very little else but water clouds & sky to be seen
5

went to bed early last night slept middling, rather warm--day light when I got up. wind and sea same as yesterday saw two or three rainbows just after sunup rather cloudy--Running almost due North nothing more of importance did I see to day. except it was a little showery
6

sun rose clear sea more calm 10. o' ship in sight in the West at about noon we passed about ½ mile west of a small Island where they get Guano it rises abruptly from the waters edge to (I suppose) about the height of 30 or 40 feet and then becomes level but about half an hour before we passed close to a small British Schooner--and off East at the distance of 30 or 40 miles is dimly to be seen the Island of St Domingo. the sea has been very calm to-day with a good cool breeze from the north. Sun set clear.
7 Sunday
slept very well all night about midnight passed the Island of Cuba. the sun rose from behind a few clouds, but in a few minutes it shone out brightly. Sea not quite so calm this morn no land in sight. a vessel to be seen due East. at 11 o'clock there was preaching in the Cabin I went back to hear the sermon but the boat running made so much noise that I could not get close enough to hear-- at 12. o' came in sight of land North of us. running directly toward it. the land proved to be some two islands passed them about 3. o' and in sight of the last named Island we came in sight of another & in fact we can see points of land all along the horizon Eastward the Island we have just passed is called Providence. Just as we passed the Northern point of the Island we passed two small schooners one an American named the Sam Small & the Other a British one the name I could not see it is now just sun down and it has set behind the clouds. there appeared to be a continuous chain of clouds around the horizon but none overhead Saw the new moon
8

last night went to bed at 7. o' and slept very soundly all night. was up this morning before daylight a quite cool breeze was blowing from a little East of North. Sun rose from behind clouds sea pretty calm but not so calm as yesterday. no land in sight. Some gambling last night. an American was dealing Monte and a jew was betting the Jew lost $3,000 it being all he had. the dealer then gave him $500 and the Jew has been in quite a Stew about it. the boys plague him a good deal no land in sight all day
9

went to bed at 7½. o' last night did not sleep very good. was up just at daylight in what is called the trade winds what makes the sea pretty rough. saw a small rainbow in the N.W. just after sunup. no land in sight. heavy clouds in the north. running North breeze from East. Showery since about ten o' till noon about 11. o' passed a small Schooner running South. so cold that I kept my overcoat on all day.
10

last night I went to bed at 7. o' and slept pretty well. we came into the Gulf stream this morning about 1. o' and it has been very rough ever since. the wind has been blowing hard from the North which makes it cold weather. but few on deck this morning had some rain. This morning towards evening it became more calm we passed two vessels in the afternoon one to the right and the other to the left.
11th
Slept well last night. got up at daylight. sea pretty calm sails in sight. weather cold perfect Cape Hatteras last night No land in sight Sea was quite calm went to bed at 8. o' was in bed a short time when they said there was a light to be seen on shore. I got up went on deck saw the light. staid up about 2 hours went to bed again. when some remarked how smooth the sea was and how nice the boat run, in less than half an hour the wind was blowing very hard and the sea was the roughest it had been on the trip. I soon got up again but did not stay up long was very cold
12.
Did not sleep well last night. this morn we are in sight of the Jersey shore, and I hear almost a thousand conjectures as to when we will get into New York the sea has become more calm and small sailing crafts can be seen in almost every direction. at 5½ o'clock we ran up to the pier and in a few minutes we (John & I) were off the boat and at Lovejoys hotel where we took supper & staid till this morn
13

when we took cars for Pittsburg arrived at Philadelphia at 12 PM passing in N Jersey & Jersey City, Newark Elizabethtown Princeton Trenton (the Capital of NJ) and Camden. got on the Penn cars at 1. o'clock PM and started for Pittsb stopping at Harrisburg the Capitol about dark and at 3½ o'clock got to Pittsburg on the morn of
14

just up at the Washington Hotel on Penn St. Went to bed at 3. o'clock and slept very soundly till six This morn when I got up feeling much refreshed took a stroll down to the river but it was so cold that I soon returned to the Hotel. in about an hour started out again and in my rounds saw a good many women going to church and till now I thought that Cal was the greatest place in the world for ugly women but I think Pittsburg beats it bad, at 11. o' again returned to the Hotel, and in a few minutes after a band of Soldiers passed going over to Alleghany to assist in burying one of the Officers. in a few minutes went to dinner had roast Turkey. in the afternoon Emery came in the train They stays at the Scotts house on the river bank Saw nothing else of interest in the eve it tried to snow a little and the best place I can find is beside a good warm stove. I think this city ought to be called the city of smoke for of all the smoky places this is the [
omission
] I have seen
Journal of
The Trip from
Home to Oregon
via Cleveland New York

April 9th '59

started from home in buggy in company with my sister and my brothers little boy at Salem stopped at D. C. Myers about an hour and 8 clock P.M. arrived at my brothers rained nearly all night
10 Sun

about 11. o' went with John to D Garous [?] staid about an hour returning in a short time it commenced raining and rained all day and nearly all night
11

Clear and the sun hot. 9. o' started to Alex's the waters high about noon clouded up
[
end
]